Frequently Asked Questions
The most asked questions about WilCity theme (and issues solved)
Have you seen this error? This is a simple one to solve.
Do you have the same problem?
Google Maps is no longer free and all maps have received an update with the message "For development purposes only". You have to pay for every single view of your map.
To fix this you have to create an account in the Google Console, enter your credit card information, select the appropriate API and get the Google Maps code for you website.
Also, these could be the issue:
The request is missing an API key.
Billing has not been enabled on your account.
The provided billing method is invalid (for example an expired credit card).
A self-imposed daily limit has been exceeded.
This is most likely because you have been hacked. If the site is redirecting you to someone else's site, probably saying "Congratulations!!", or has weird things you never inserted in your site, you are most likely hacked.
You need to use a cleaning service such as Sucuri to clean the site. Alternatively, you can contact Donald McGuinn to have the site cleaned faster and cheaper than building a new one.
Be sure you have added that field to your custom field settings under Wiloke Tools > Listing Settings. Afterwards, you should also be sure to have added it under Single Navigation under Wiloke Tools > Listing Settings and have turned it on.
---
There is a simple explanation. You need to setup what is called SMTP on your site.
WordPress uses mail function in PHP to send emails. Many shared hosting providers do not have this function configured properly, or they have disabled it entirely to avoid abuse. In either case, this causes your WordPress emails to not be delivered.
The alternative solution is to use a third party email service to send out your emails. You can use services like Mailgun, Google Apps for work, or Sendgrid.
You will have to pay for your account, and the cost will vary depending on how many users/accounts you add or the number of emails you send. See our tutorial on how to fix WordPress not sending email issue.
What if we told you that there is another option, and most likely you are already paying for it?
---
After creating your email account, you are now ready to use it in WordPress. But before you do that, you will need the following information from your hosting service provider.
SMTP Host for your email address.
SMTP Port for secure login.
You can check the support section on your host's website for this information. Most likely there will be an article providing this information. If you don't find it, then you should contact the hosting support to request this information.
---
You will now need to install and activate the WP Mail SMTP plugin.
Upon activation, you need to visit Settings » Email to configure the plugin settings.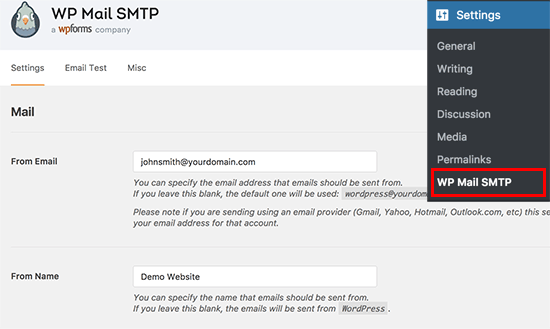 First you need to enter the email address you just created. After that you can add a from name, this will be used as the sender name.
If you do not add a from name, then the plugin will use the default WordPress.
Next, you need to choose the mailer. Go ahead and click on the 'Other SMTP' option to select it.
After that, you need to check the box next to 'Return Path' option. This option sets the return path to match the sender email address. If you leave it unchecked, bounced messages and non-delivery receipts will be lost.
Next, you need to set up SMTP options.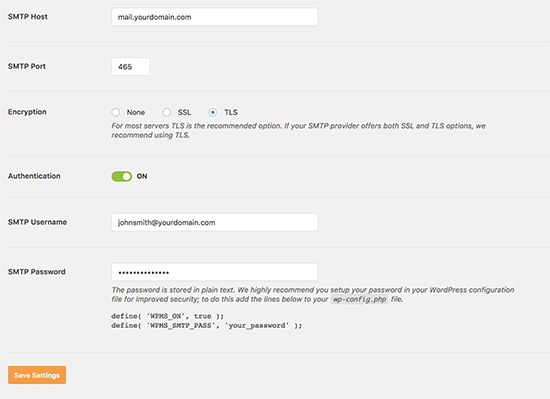 First you need to enter your SMTP host and port. You can obtain this information from your hosting provider. Typically, SMTP host is mail.yourdomain.com (replace yourdomain.com with your own domain name). For SMTP Port 465 is commonly used.
Next, you need to choose encryption. Most WordPress hosting companies support SSL and TLS. We recommend using TLS option when available.
After that turn on the authentication toggle and provide your SMTP username and password. Normally, your email address is also your SMTP username.
Your password is stored as plain text, which is not safe. Don't worry, we will show you how to make more secure later in this article.
Don't forget to click on the save settings button to store your changes.
---
Troubleshooting WordPress Email Issues
The most common reason for errors in sending emails using SMTP is incorrect SMTP host or port. Make sure that you are entering the correct host and port settings provided by your hosting provider.
Make sure that you select the correct encryption method. Usually SSL works on most environments, but we recommend that you check with your web host if your emails are not getting delivered.